Australian Superfine Wool Growers of Australia celebrate awards in Ararat
The ASWGA was also celebrating the organisation's 50th anniversary.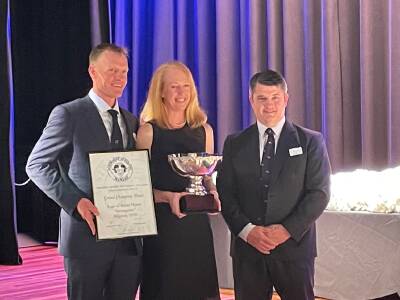 The Ararat Town Hall hosted the Australian Superfine Wool Growers of Australia's (ASWGA) award night on Saturday, recognising some of the leading woolgrowers in the country.
The event saw industry figures speak at the event, outlining their vision for the future of the wool industry, and even saw the Prince of Wales present a short video message for the attendees.
The night also saw winners of the 2022 ASWGA fleece competition, with the grand champion fleece taken out by Angie and David Waters, Tarrangower Merinos, Hillgrove with a score of 93.

The winners said they were very honoured to win the best overall fleece award.
"To win the Grand Champion Trophy was a wonderful surprise and we are so proud to produce the fibre we do," they said in a joint statement.

"We strive for excellence and have a real passion for producing high quality super and ultra fine wool,"
As well as taking out the grand champion, Mr and Ms Waters also won in the New England region category and winning the class 80s quality.
READ MORE:
Penny, Andrew and Ed Hundy, Windradeen, Adaminaby NSW, won best fleece for the class 90s quality.

Lesleann and Mark Waters, Riverton NSW, won best fleece for the class 74s quality.

Michelle and Luke Rapley, Plassey Rural, Norfolk Plains, Tasmania won two categories - the class 70s quality and the Tasmania region category

Heather and Geoff Phillips, Currawong, Tatyoon won in the Ararat/Barunah region category.

Sue and Brett Picker, Hillcreston Heights, Bigga NSW won in the Goulburn/Yass region category.

Kathy and Trevor Mibus, Glenara Merinos, Dunkeld won in the Hamilton region category.

Irene and Daryl Croake, Oak Hills, Pyramul NSW won in the Mudgee region category.

Faye and Jim Pepper, Mumballview, Mumballup, Western Australia won in the Western Australia region category.

Would you like to comment on this article?
Thanks for providing feedback.