Bringing consistency to Boer breeding key
Thomas Youlden is leading the way in ensuring true, high quality, boer goats are offered for sale.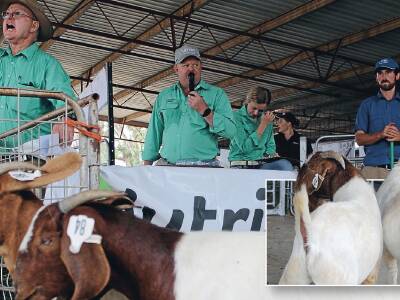 For close to 20 years Thomas Youlden, has specialised in producing top end boer goats from Tomingly, New South Wales, where he's at the forefront of ensuring the breed is consistently presented as a true "high quality" breeding option for buyers at the point of purchase.

Mr Youlden said while the current industry expansion has been great, this rapid growth has resulted in many agents and stud breeders "playing catch up" as there are significant gaps in knowledge and experience.

"This has been reflected in the inconsistency in the quality of animals on offer in the country, where average animals have been advertised as "top quality". By raising awareness throughout the industry I'm striving to close this gap," he said.
To increase the awareness and flow of genuine high quality Boer genetics, Mr Youlden runs the Pinnacle Boer Goat Sale, in St George, Queensland (next being held on February 1, 2023) and the Trio of Treasures Sale (Which he oversees with Benjamin Stanford, Bengara Boer Goats), at Peak Hill, NSW, which will next take place on October 26, 2022.
"I created these northern and southern sales to take the industry forward and give buyers confidence in purchasing goats at auction. Being an industry specialist I'm at the forefront of these multivendor events overseeing quality control."

Mr Youlden has found that quality control by experts is important as it encourages breeders to continuously improve their livestock to fit breed standards and reduces animals being sold that aren't up to scratch.

"The vendors involved with my sales are pushing the quality of Boer goats forward for the industry."

Together with his brother Alex, James Turnbull was the volume buyer at the 2022 Pinnacle sale, where he bought 14 bucks online (seven of which were from Valley Boers and Youlden Valley) to enhance the quality of the genetics running through their 6500 head breeding herd, at Lloyd Hills, 80km west of Augathella. The Turnbulls have been joining Boers to Rangeland breeders for six years to produce a crossbred article, bolstered by the extra weight and better carcase the Boers provide.

"We mostly sell to restockers. Billys are sold to backgrounders, and the others are sent to the Charleville meatworks," Mr Turnbull said.
"We've been receiving solid returns. Over the last four months the restocker job has steadied up, but we're still receiving a premium for the kill job," he said.
Mr Turnbull said the Youldens have a great reputation in the industry, which is why he bought from them.

"The article they produce has handled our country very well to date, and the crossbred progeny are packed with meat. We're looking forward to next year's sale."
Growing up three hours west of Bourke, in the north-west of NSW, meant goat production had always been on Emma Nalders radar. After marrying her husband, James, she moved to his family's mixed cropping and livestock enterprise, Cudgewa, Coonamble, NSW, in 2016 to focus on beef cattle production. Unfortunately, drought struck the region soon after they bought the property, which forced them into heavily destocking their cattle. In February of 2020 they started receiving rain, and have been lucky in that regard since.

"When the rain arrived, we started looking at restocking options and managed to get in some cattle, but as we'd always had an interest in goats we decided to buy Rangeland nannies from out west, with the idea being to eventually buy Boer bucks to put over them," Mrs Nalder said.

They purchased Boers from Goondiwindi, and are in the first-cross phase of their operation now. They also have a few purebred Boer nannies, which they're hoping to retain billys from.
They've been selling their higher Boer-content goats to a buyer in their region chasing that type, and sell wether weaners over the hooks into the southern meatworks. They also sell first-cross nannies to restockers, while retaining some for themselves.

"We're growing the wethers out on chickpea splits and lupin. The higher Boer-content wethers recently weighed in at an average of 35 to 40kg, which was 7kg heavier than their Rangeland counterparts. These have sold for an average of 550c/kg. We're running a set joining program, involving two mating periods per year."
Between this year's Pinnacle sale and 2021's Trio of Treasures auction, the Nalders purchased 10 bucks from Valley Boers and Bengara Boer Goats.
"It's great to see established breeders like the Youldens raising awareness for the work they, and their fellow stud breeders, are doing to help highlight the benefits of breeding Boers."
Would you like to comment on this article?
Thanks for providing feedback.