United Dairyfarmers of Victoria conference Photos
Dairy farmers, from around Victoria, finally get together in person again at their annual meeting and conference.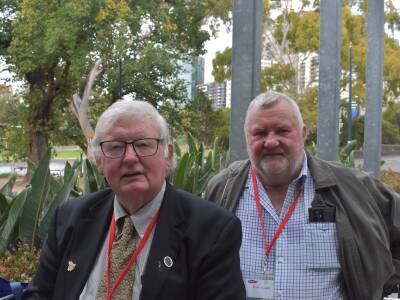 After several postponements, due to COVID-19, the United Dairyfarmers Victoria has finally gone ahead, at Zinc, Melbourne.
It's 36 months since the UDV last met.
Read more: Young people in dairy urged to join UDV Victorian study tour
After four years, president Paul Mumford, Won Wron, has announced he's stepping down from the position.

"The work has been invigorating and hugely rewarding," Mr Mumford said.
"I have made sure my moral compass was straight and integrity intact and that I delivered for all dairy farmers, in their best interests."
Other presenters included the UDV commodity manage Shane Byrne, Australian Dairy Farmers president Rick Gladigau and Dairy Australia analyst John Droppert.

Want to read more stories like this?

Sign up below to receive our e-newsletter delivered fresh to your email in-box twice a week.

Would you like to comment on this article?
Thanks for providing feedback.