Meet the 2022 ACM Sire Shootout judges
The judges will look over the 53 entries in this year's online competition.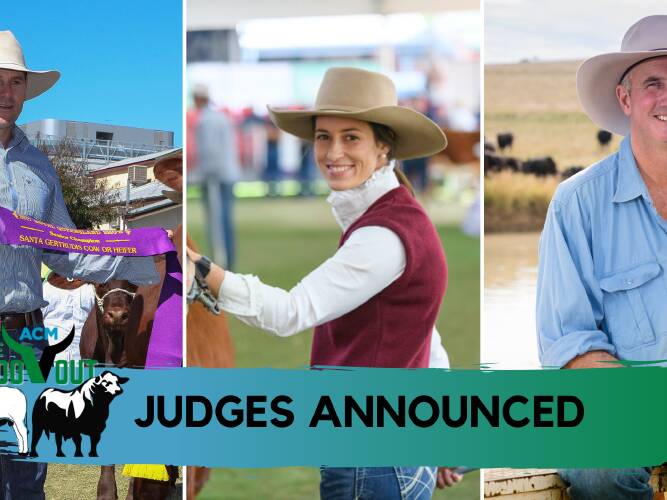 Three beef producers who have sold record breaking bulls and taken the top spoils at Royal shows across the country will judge the entries in ACM's 2022 Sire Shootout.
Ben Mayne from Texas Angus, NSW, will look over the European class, Hannah Powe from Goondoola Livestock, NSW, will have the British bulls and Andrew Bassingthwaighte has been tasked with the Bos indicus and tropical breeds.
In a new twist to this year's competition, all three will then score the interbreed final (where all previous placings are cleared) to award an overall winner and runner up.

This year's lineup features bulls from Queensland, NSW, Victoria, Northern Territory and Western Australia and a range of different breeds including a Braunvieh for the first time.
Remember when: Barronessa Holloway was named winner of ACM's Sire Shootout
Mr Mayne and his wife Wendy operate the Texas Angus stud in northern NSW and aim to breed no fuss Angus cattle combining calving ease and explosive growth with quality carcase traits, without compromising structure, phenotype and temperament.
The stud made headlines last year when their Sire Shootout entry, Texas Iceman, sold for an Australian Angus record price at the time of $225,000. Their 2021 on-property sale also broke a record when it averaged $20,967.

Ms Powe is based in the Central West of NSW and together, with her family, runs a Red Angus stud and commercial operation, which is focused on breeding moderate maturity pattern cattle with functionality, longevity, and fertility.
The family were originally involved in Murray Greys since the 1980s, and currently import outcross Red Angus genetics from North America.
Ms Powe not only exhibits at stud shows but she has also judged in all states, except Queensland, with the most recent being the 2021 and 2022 Sydney Royal Show, 2021 Speckle Park Champion of the World and Miss World competitions.
Mr Bassingthwaighte is the principal of Yarrawonga Santa Gertrudis stud and Yarrawonga Cattle Co in Queensland with his wife Fiona and their three children.

They manage a growing herd of more than 10,000 head across five properties from Wallumbilla to Jericho and offer 200 bulls at their on-property sale each September. Commercially, cattle are sold to Woolworths each week.

He is a third generation Santa Gertrudis breeder with the Yarrawonga stud showing cattle for more than 50 years at several royal shows.
Mr Bassingthwaighte has previously judged at Beef in Rockhampton, Brisbane and Sydney Royals and various country shows.
Judging will begin with the Bos indicus class from 7pm AEST on June 28.

The British and European classes will be judged the following night, June 29 at 7pm AEST, and the interbreed final is scheduled for 7pm AEST on June 30.

Tune into the Sire Shootout livestream via your favourite masthead
www.northqueenslandregister.com.au/sire-shootout/
www.queenslandcountrylife.com.au/sire-shootout/
www.theland.com.au/sire-shootout/
www.stockandland.com.au/sire-shootout/
www.stockjournal.com.au/sire-shootout/
Would you like to comment on this article?
Thanks for providing feedback.