Hitting optimum cattle weight
Weighing cattle in the paddock is a gamechanger for Queensland producers.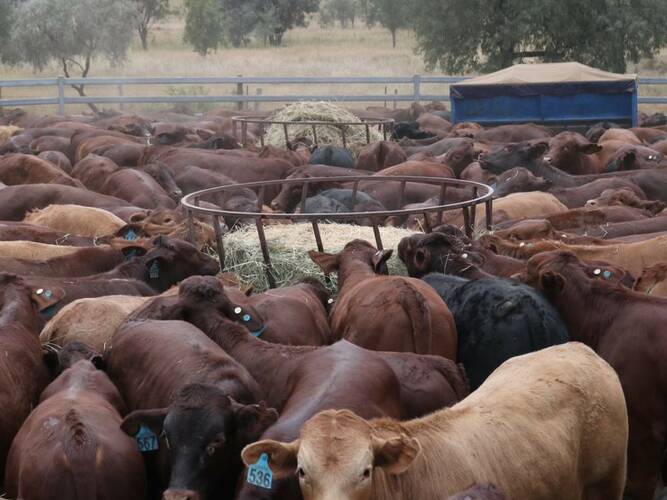 Kurt Mayne is busy: when you background cattle, farm 3000 hectares and do some contracting on the side, it's going to be that way.

So when he came across the Optiweigh in-paddock weighing units, he was keen to give them a try.
"We turn off a heavy feeder at 480 to 500 kilograms," Mr Mayne said.

"As soon as they go over 500kg we lose $150. It's a minimum of four to five weeks between when you book cattle into the feedlot and send them. To be able to weigh cattle in the paddock with no labour and get accurate data is a game changer.
"I estimate the accuracy is probably enabling us to put on an extra 20kg per beast because I can make better decisions about when cattle need to be sold. It stops the weights blowing out over the top of the feeder market and I no longer have a bullock paddock. Feeders make more for us than bullocks, plus it's saving me six months of feed on these animals."
Mr Mayne says younger cattle are run in mobs of 600 to 700. When they are almost ready to go to the feedlot, the mob size drops to 300 to 400 - and that's when he uses Optiweigh units.

"It takes twice as long to draft a mob of 600 as it does 300 and curfew is a massive consideration for us. When we go to sell cattle, they're on hay as soon as they hit the yards. We'll get them in at daylight the day before and have them drafted by 10am. By midday, they've been through the plunge dip and from then until 4am they're in the yards on a hay feeder.

"We'll truck them in the dark while they're calm and they're at the feedlot off the weighbridge by 11am or 12pm. The feedlot is 500km away. We budget for them to lose three to five per cent of their bodyweight in transit.
"We have 2800ha of Leucaena. It's the only crop you can grow once and reap rewards from for years and it's the only crop you can inherit. We've just fertilised every row on one side with mono-ammonium phosphate (MAP): its first expense in 30-plus years. I estimate it has given us an extra 0.2kg a day in that time. It allows us to background cattle all year and helps us handle droughts. Our paddocks are rotationally grazed."
Mr Mayne said he didn't use HGPs. "We blood (tick fever vaccine), Dectomax and use the plunge dip. We cross the tick line into clean country on route to the feedlot. Cattle are cleared on-farm."
The only supplements Mr Mayne feeds are blocks to entice cattle onto the Optiweigh units. Currently, a trace mineral block, but when the feed dries off he'll use Uramol.

The cattle use the Optiweigh units well. Mr Mayne puts this down to the fact that they are always tipping cattle into the mobs using the units and the original cattle teach the others. If the units have weighed 50pc of cattle in the paddock, Mr Mayne is comfortable that it's reliable data.

"Even at 30pc of the mob using the units we're getting good data," he said.
"We use a buying agent but sell direct to the feedlot. Lately we've bought from Gracemere, but we use AuctionsPlus and paddock sales when we can find them."

Mr Mayne employs a man who is happy to spend a bit of time weaner training.

"They'll stay in the yards just as long as they need to," he said.
Mr Mayne hires a consultant to analyse his own weight data, along with data from the feedlot including the kill sheets.

"I'm going to be able to work out where I get the best 10pc of my cattle from and I'll be happy to pay an extra 10 cents if I know they are going to perform better."
Would you like to comment on this article?
Thanks for providing feedback.