Feed mixer shaves three hours off the day for NSW lot feeder
Farmers and lot feeders across Australia are investing in feed mixers, sparking an uptick in sales for one Australian company.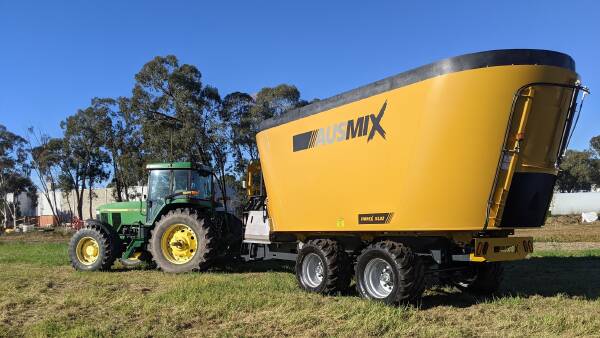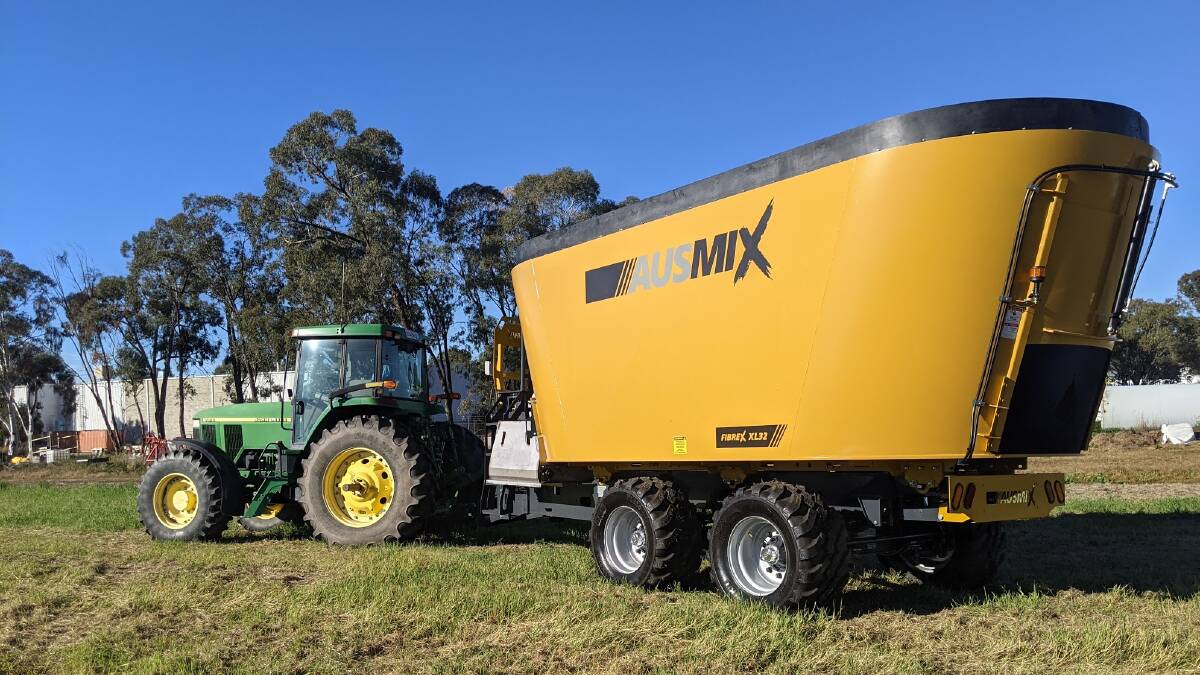 Farmers and lot feeders across Australia are investing in feed mixers, sparking an uptick in sales for one Australian company.

Ausmix engineers and constructs feed mixers from its base in Wodonga, Victoria.

NSW feedlot operatorMitch Maquire had beenchasing more capacity when he decided to trial Ausmix's XL32 twin screw trailed machine.
The machine is popular in dairies and Mr Maquire said he raised the idea of trialling it and providing feedback about its suitability for feedlot enterprises.
Mr Maquire turns over about 10,000 head of cattle a year at Tamworth.
"We use a very dense ration - 70 per cent-odd grain, and to get that capacity and mixing capability we had a yarn with Ausmix some time ago," he said.
"We run tempered grain, taking grain at 10-12pc arrival moisture to 19-21pc so we're adding density and friction to the mix.
"We add a lot of moisture including a molasses-based liquid supplement, almond hull, straw - it creates a very dense and heavy friction ration - it's a very different story to a big bulk load of hay, or 20-30pc grain plus a bit of hay and silage."
When speaking with Ausmix, Mr Maquire told them he would be putting 12 to 14 tonnes in the machine, similar to a grain cart, and wanted to make sure nothing would be broken.
"With grain in mind we asked for tighter tolerances on the doors and the augers' cutting ears, small gaps around the planetaries at the bottom, and heavier planetaries. We put the elevator on scales and added a liquid delivery system," he said.
"With the Ausmix we can feed at least twice as many cattle each day as previously in the same run.
"It's a big difference for us, it's probably saving us 2.5 to 3 hours a day for the same operation compared with the smaller mixers we've had."
Adapting to suit Australian conditions
Ausmix's sister company Farmtech Machinery is owned by the Modra family and is already an established importer and manufacturer of cultivation and fodder conservation equipment.

The business is not a stranger when it comes to the feed mixer and wagon space and has been importing brands like Penta and Jeantil for the past decade.
However, Ausmix was established in response to the growing need for machines that have been designed to suit Australian operations.
Ausmix machines feature a Fibre-X vertical tapered auger, developed specifically for Australian feeding programs.

With razor-sharp knives it chops fibre to deliver improved mix characteristics to give animals a nutritional edge in terms of productivity and herd health.

With the Ausmix we can feed at least twice as many cattle each day as previously in the same run.
The Fibre-X's outputs and consistency have been substantiated by the Penn State separator test.
Ausmix's range covers single, twin and triple auger machines in trailed and truck-mounted configurations, with capacities from 8 to 45 cubic metres.
All Ausmix models are built using heavy duty, long life materials including 20mm auger and floor plate, 10mm tub walls, and three different types of heat-treated tungsten carbide cutting knives.
Drivetrains incorporate premium gearboxes to match the punishing conditions found in the Australian livestock market.

Planetary drives are perfectly paired to the Fiber-X auger, tearing through big bales with ease and mixing all fodder types, including high forage/fibre or grain rations, with a consistent result.
Two-speed gearboxes direct both powerful processing and effective cleanout of the mixer, improving the quality of feeding and saving time.
Ausmix can be specified with short or long flip-up elevators to suit troughs, bunkers, paddocks, or to feed over obstacles or into raised receptacles like self feeder bins.

Dual shift conveyors feed out on both sides and Ausmix conveyors and elevators are fitted with either rubber tread or chained slats to suit all types of fodder.
Read more:
Switching to an Ausmix machine has also paid off for Victorian beef farmer Ray Snell.
"With the price of land these days I believe we've got to get more value out of the land we've got," Mr Snell said.

"So I'm aiming for 'vertical growth', instead of 'horizontal growth', by not just buying more land but getting more off the land we've got."
Mr Snell said to do this he needed a feed mixer that could mix various rations to get protein and energy into his cattle.

"We target a growth weight over a number of days; the cattle are here for only a given time until they get heavy enough, I want to get all cattle on and off our 400 hectares at Bonegilla in less than 12 months," he said.
"We buy our cattle in at about 400-plus kilograms and we grow them out to over 700kg, so over 300 days we want to achieve a kilo a day.

"The only way you can do that is by using a good ration."

Start the day with all the big news in agriculture! Sign up below to receive our daily FarmOnline newsletter.

Would you like to comment on this article?
Thanks for providing feedback.